Parents Guide to Online Safety Archived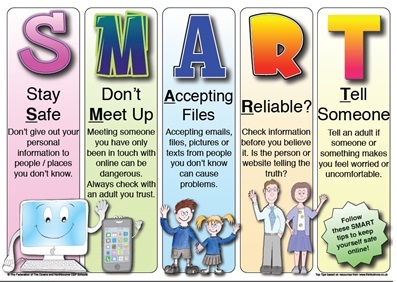 Safeguarding is a serious matter; at Barham Primary School we use technology and the Internet extensively across all areas of the curriculum. Online safeguarding, known as Online Safety is an area that is constantly evolving.
Online Safety is embedded into our curriculum; students will be given the appropriate advice and guidance by staff. Similarly all students will be fully aware how they can report areas of concern whilst at school or outside of school.
Parents and Carers
Parents play the most important role in the development of their children; as such, the school will ensure that parents have the skills and knowledge they need to ensure the safety of children outside the school environment. Technology was different when we were young but the internet has changed everything. We have provided some useful internet (Online Safety) information and links below.
Download useful parent's guides to the most popular social media your child maybe using such as, Roblox, Fortnight Battle Royal, Instagram, Snapchat and much more,
Download The Digital Resilliance Toolkit. Practical advice for parents of 6 to 10 years old.
Issues Affecting Young People
Popular Social Networking Sites And Games That Your Child Maybe Using
Click images to learn more. Check regularly for updates.
TIKTOK
Official Age Rating 13+
Download A Parent's Guide To TickTok

TikTok is a social network that allows users to make video clips, lip sync to their favourite songs, create short videos, as well as view the clips and videos of others. There is also the option to live stream videos and directly interact with users via the online chat. TikTok also puts young people at risk of seeing highly inappropriate content. Lyrics, interpretations of songs, the level of dress or undress of users by viewing other peoples music clips.

FORTNIGHT-BATTLE ROYALE

Fortnite has a PEGI rating of 12, PEGI have said this is due to the: 'frequent scenes of mild violence. It is not suitable for persons under 12 years of age'.

This PEGI rating only takes into account the content in the game and not the contact element, where players may be exposed to swearing and offensive language from strangers in voice or on-screen text chat. More information from Childnet International.

ROBLOX GAME SAFETY ALERT!
There has been some concern raised about a game your children may be playing called ROBLOX. ROBLOX is aimed at 8 to 12 year olds but, children can be contacted by strangers using the chat facility which can be used to groom children. This is how to disable the chat feature in ROBLOX. Please remind your child, that they should never share their user name and password with anyone.
SnapChat
Minimum age 13.
This app allows you to send a photo or video to friends instantly but is saved temporarily.

Instagram
Minimum age 13.
This Is a video and picture sharing app that allows people to post comments and share.


WhatsApp
Minimum age 16.
is an app that uses the internet to send messages, images, audio or video. So it saves you using your data allowance.

Youtube
Minimum age 13.
Allows you to view, create and share videos. You can comment on videos and subscribe to channels. There is now a YouTube Kids app that you can download from iTunes.

Facebook
Minimum age 13.
This is a social neworking site that makes it easy to conntect and share with family and friends.

Minecraft
Minimum age 13.
This is a 3D computer game where you can build anything. You can play in either single or multiplayer mode.

Pokemon Go
Minimum age 9. This is a game where you go to various locations using GPS to collect and trade pokemon creatures.

Roblox
Minimum age 8.
This website allows you to create your own games or play games that other have made. There is also the option to chat to other players.

Miniclip
Minimum age 13.
This website allows you to compete and play against other people and even create your own game. You can instant message people and comment on their games.

MovieStar Planet
Minimum age 8.
This website allows you to create a famous movie star character to talk to people in a chat room. You can play games and watch videos.
Parent Guide to Technology, Parental Controls and Reporting.
Children and Smart phones.

Learn how to Set Parental
Controls.

Safety features on Social Networks.

Worried about something you have seen online
Report it to CEOP.

Download
Vodafone
free Digital Parenting Magazine.

Basic Computer Skills.

Get Safe Online. Hacking, Phishing & fraud.

Internet Glossary of terms.