Governors
The Governing Body

The Governing Body is a group of elected and co-opted volunteers who represent the whole school community and are responsible for many aspects of leadership and management. Governors support and challenge school based leaders to ensure that every child at Barham makes excellent educational progress and continues to "Aim Higher" throughout their lives.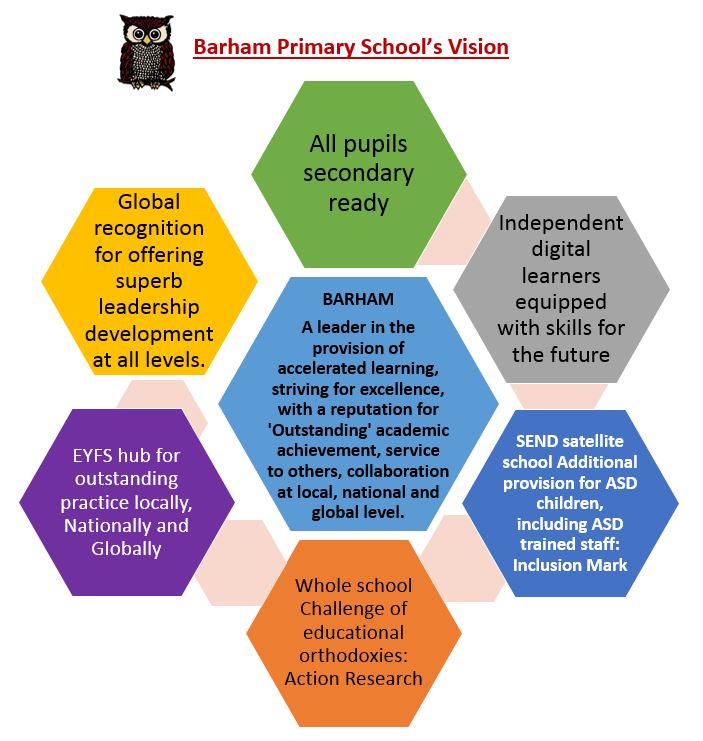 The governing board has the following core strategic functions:
Establishing the strategic direction, by:
Setting and ensuring clarity of vision, values, and objectives for the school(s)/trust
Agreeing the school improvement strategy with priorities and targets
Meeting statutory duties
Ensuring accountability, by:
Appointing the lead executive/headteacher (where delegated)
Monitoring the educational performance of the school/s and progress towards
agreed targets
Performance managing the lead executive/headteacher (where delegated)
Engaging with stakeholders
Contributing to school self-evaluation
Overseeing financial performance, by:
Setting the budget
Monitoring spending against the budget
Ensuring money is well spent and value for money is obtained
Ensuring risks to the organisation are managed
From NGA Code of Conduct and the DfE Handbook for Governors.

A full outline of the statutory work of Governing Bodies is outlined in the latest January 2017 version of the DfES Governors' Handbook and the January 2017 Competency Framework for Governance.

From March 2013, Barham Governors have adopted the National Governors' Association Code of Conduct which outlines the values and conduct required for this public duty.Please note! we are currently updating our Governors Attendance record.

The Headteacher, the Bursar and other senior staff formally report to the full Governing Body each term and there are a range of processes for consulting on issues throughout the year.

You can contact the Governing Body by writing to the Chair of Governors, Ms Daksha Thanki, via the school office. Governors very much welcome thoughts, ideas and issues that the school community would like to discuss and thank parents for their valuable contributions to Annual Questionnaires and Parent View. A copy of the minutes from our most recent governing body meeting can be obtained from the front office.

How to become a Governor
Information about how to become a Governor can be found in this useful How to become a Governor guide and on the Brent website.
Here is our Governor attendance record for 2017.
---
List of Governors and Associate Members 2019
| | | | | |
| --- | --- | --- | --- | --- |
| Name | Governor Type | Term From | Term To | Roles |
| Mrs Daksha Thanki | Co-opted (1) | 21-03-16 | 20-03-20 | Chair of Governors |
| Ms Karen Giles | Headteacher | | | Headteacher |
| Ms Jean Joyce | Observer | | | Deputy Head |
| Mr Binod Singh | Co-opted (3) | 21-03-16 | 20-03-20 | Vice Chair of Governors |
| Mr Elaine Webb | Co-opted (4) | 23-03-15 | 22-03-20 | |
| Ruthie Jacobs | Co-opted (8) | 28-03-19 | 27-03-20 | |
| Mr Matthew Parker | Co-Opted (9) | 28-03-19 | 27-03-20 | |
| Mrs Anjni Dangi | Parent (1) | 16-05-10 | 15-10-19 | |
| Mr Vijesh Patel | Parent (2) | 21-03-16 | 20-03-20 | |
| Samir Pipalia | Parent (3) | 28-03-19 | 27-03-20 | |
| Mr Naveed Saeed | Parent (4) | November 2018 | November 2019 | |
| Ms Shanta Ranavaya | Staff (1) | 2-11-15 | 1-11-19 | |
| Mr Paul Lorber | LA (1) | 9-5-19 | 8-5-20 | |