Governors
Chair's Letter to Parents 2023-2024
Dear Families of Barham,
Welcome back! I hope your children have had a good summer and have been happy to settle into their new class and a new routine.
Since February 2023, when our much respected Headteacher Karen Giles fell ill, governors have worked closely with the school staff and Local Authority to ensure that the expected high standards of education at Barham school are maintained for each and every child. During the coming year we are pleased to welcome Ms Georgina Nutton as interim Executive Headteacher. Ms Nutton will lead overall strategic direction during Ms.Giles' continuing absence, reporting directly to the Governing Board.
Barham fulfilled our commitment to Stonebridge Primary School and we are now part of the soft federation with Preston Park Primary School who have seconded Ms Nutton to Barham and we look forward to positive sharing of good practice. Chair and Vice Chair of Governors from both schools will hold a termly joint meeting to discuss impact, improvement, and anything else of consequence.
Governors would like to congratulate all the children who took exams last year especially Year 6 who did very well and made us all proud. They couldn't have done it without their hard working teachers, great parental support and good attendance. Both assessment and attendance data are important to Governors in their monitoring outcomes for your children. Thank you for ensuring your children attend school every day to maximise their learning.
We were also very proud when Barham made it into the Top 10 Best Schools in The world for collaboration. We had local dignitaries attend the announcement. A huge thank you to all those involved in making it a success so far.
Thank you also to the Parent Committee who organised the Summer Fair and made that and other events a success for the whole community. We hope that they continue their endeavours and that they will continue to receive your support.
This year the school has made provision for free school meals for all the children throughout the school as directed by the Mayor of London's initiative. We hope that your children are enjoying their meals. The in-house catering staff are amazing in their care and provision.
Governors have worked hard to carry out their duties and roles and responsibilities by having regular meetings and link visits with the school for their monitoring purposes and triangulation of information that they are given. We take safeguarding very seriously and hope that your children always feel safe, we also hope that you are vigilant with the online access that is available to them as online safety is very important.
Thank you for making Barham your school of choice.
Best wishes,
Daksha Thanki.
Chair of Governors.

FURTHER INFORMATION ABOUT THE BARHAM BOARD OF GOVERNORS AND THEIR WORK.
Governors volunteer for the role and are appointed for a variety of reasons. The overall aim is that, across the team, we have an effective range of perspectives, skills and experiences. Governors do not receive payment for their work but the Department for Education (DfE) makes our duties very clear in their Governors' Handbook.
https://assets.publishing.service.gov.uk/government/uploads/system
/uploads/attachment_data/file/925104/Governance_Handbook_FINAL.pdf
"The purpose of governance is to provide confident and strong strategic leadership which leads to robust accountability, oversight and assurance for educational and financial performance".

BARHAM PRIMARY SCHOOL CONSTITUTION
If Spaces are shown in the table below, this indicates places within the constitution which can optionally be filled. Where Vacancies are shown this indicates places within the constitution which should be filled.
Nominating
Authority

First Appointed

Term Start

Term End

Co-opted Governors

Mr Vijesh Patel

Governing Board

16-03-20

16-03-20

15-03-24

Mrs Daksha Thanki

Governing Board

04-03-20

04-03-20

03-03-24

Ms Elaine Webb

Governing Board

23-03-19

25-09-23

24-09-27

Ms Paulette Williamson

Governing Board

07-10-19

25-09-23

24-09-27

Mr Louis Reynolds

Governing Board
27-04-22
27-04-22
26-04-26

Emilie Juan De Mendoza

Governing Board
25-09-23
05-06-23
04-06-27

Stelios Stylianou

Governing Board
25-09-23
05-6-23
04-06-27

Jean Joyce

Governing Board
25-09-23
25-09-23
24-09-27

Ex-Officio

Ms Karen Giles

Head Teacher

Associate Member

Georgina Nutton

03-09-23
03-09-23
02-09-27

Staff (Teaching) Governors

Mrs Dimple Pagarani

04-05-20

04-05-20

03-03-24

Local Authority Governors

Mr Paul Lorber

Local Authority

09-05-19

08-05-23

07-05-27

Parent Governors

Mrs Anjini Dangi

Elected by Parents

16-03-20

16-03-20

15-03-24

Mr Harshal Naik

Elected by Parents

16-03-20

16-03-20

15-03-24

Vacancy
OUR VISION FOR THE SCHOOL AND HOW WE WILL GET THERE.A link to our attendance record and Terms of our Committees are found in About Us/Governors on the Barham website.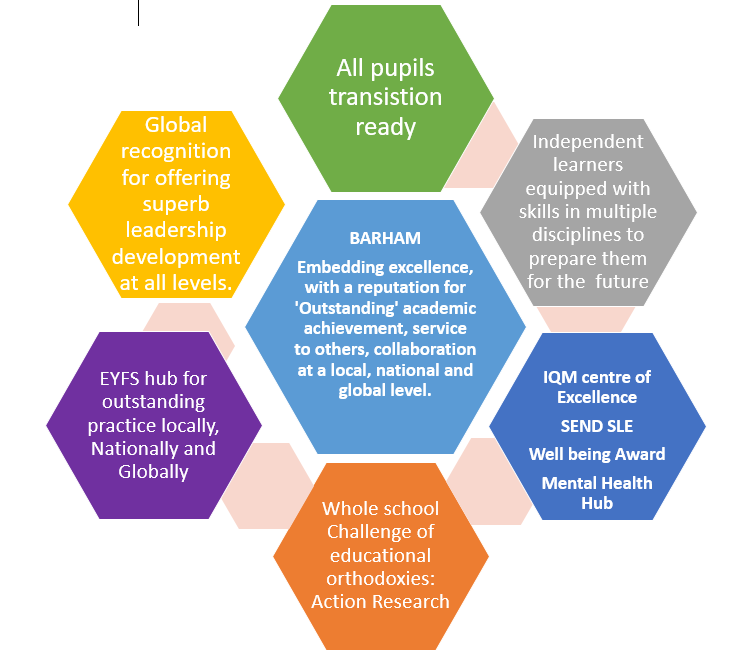 Our overall vision is summarised in this quick "at-a-glance" graphic which we update each Autumn. The Ethos and School Values designed to make this happen are clear all around the school. Each academic year staff and governors update a detailed Strategic Priorities document which explains how everyone is regularly checking learning and then judging when different actions need to be taken. Progress against the Strategic Priorities is discussed by Governors at our termly meetings. We routinely have one Main meeting, one Finance Committee meeting and one School, Community and Human Resources committee meeting every term. Other meetings take place when required.
A Panel of Governors is delegated responsibility for the Performance Management of the Headteacher and for ensuring effective performance management systems for everyone.
We expect the highest possible standards from all staff and, in return, we strive to ensure their wellbeing, professional development opportunities and rewarding roles in the school.
To keep ourselves fully informed, we usually consider three types of reports. Reports from the Headteacher and senior staff are detailed and rigorous analyses of the current quality of education and financial prudence. Individual Governor's Link Visit Forms give snapshots of particular issues we are interested in at different times. External reports give us invaluable perspectives from people who may have little detailed knowledge of the school but who can help us to compare ourselves to other similar organisations. These include reports such as the latest OFSTED visit, Challenge Partners scrutiny, Brent Financial Audit recommendations, and many others.
A large number of the Governors duties are connected to compliance with statutory requirements. To keep ourselves up to date nationally we have Gold Membership of the National Governors' Association. We all agree to adhere to the NGA Code of Conduct. As a state maintained school, we adopt many of the policies of the London Borough of Brent. We make full use of the services they offer in relation to Health and Safety regulations, legal requirements, GDPR (General Data Protection Regulation) and employment practices. We continuously review our school agreed policies to ensure that they are up to date and relevant. You can find all these Policies on our school website under About Us/Policies.
If you think school governance at one of the Brent schools may be of interest to you, you can find out more information at https://www.brent.gov.uk/services-for-residents/education-and-schools/student-and-school-information/school-governor/
THE CURRICULUM.
Our curriculum is everything taught to your children at Barham school. We follow the Early Years Foundation Stage Framework, the National Curriculum for England and Wales and the local Standing Advisory Council for Religious Education (SACRE) guidelines. Additionally we include local projects and visits which staff believe greatly enrich the curriculum. As parents and carers you get full information from your year groups and the termly school Newsletters. Details of our current curriculum offer can be found on our website under Our Learning.
OUTCOMES FOR PUPILS.
Through our surveys, our face to face meetings, our attendance at year group assemblies, discussions at coffee mornings and our reports from staff, we believe that you value the termly meetings about your children's progress at school and feel well informed about what they learn, how they learn and how they are able to apply what they have learnt in the future. Teaching staff continuously observe how children are learning. They then tweak the activities to challenge and encourage them.
National tests are useful in many ways and they give us the chance to compare how different groups of children in different schools are performing. Every Autumn senior school leaders and governor representatives look carefully at these comparisons and put in place any additional or altered provision needed as a result. We employ an external consultant to attend our Annual Review of Standards to ensure that we have both external and internal perspectives.
CHILDREN WITH SPECIAL EDUCATIONAL NEEDS AND/OR DISABILITIES.
Associate Headteacher Ms Silvana Mazzaschi continues to be responsible for co-ordinating all the extra support and interventions for children with Special Educational Needs and/or disabilities in the school. This includes keeping parents informed, holding annual review meetings, liaising with outside agencies involved with your child as well as over-seeing all aspects of this area. A summary of this work is on the website Our Learning/SEND.
SAFEGUARDING CHILDREN AND ADULTS.
We know that schools may seem to be places full of lots of rules and, as busy adults, these can sometimes seem frustrating. However, these rules are essential for many reasons from basic safety to teaching life skills. Many of the rules are designed by the children themselves – in their classrooms, through the School Council and through the school Cabinet. Some are legal Safeguarding requirements. Some are put in place to reduce the risks of an accident or mistake happening again. Thank you for supporting these measures and for immediately reporting anything that you think looks wrong or potentially dangerous.
An orderly, respectful environment is the most powerful aspect of a safe school. The excellent behaviour of the children at Barham, and the vigilance and care of adults, is commented on by all visitors and external assessors. We are determined to maintain these exemplary standards. Regular attendance is another key driver and we thank you for following our Attendance Policy.
At times there may be reasons when you need to meet more regularly than usual with school staff in relation to one of your children. The full staff list is on the website and your child's class teacher or staff in the Front Office will help you with initial queries.
SCHOOL FINANCES.
We make every effort to spend the money delegated to the school wisely and effectively. In this time of financial austerity we are pleased to have been able to spend within budget during the Financial Year 2021/22 while maintaining high standards in our fully subscribed school. Our latest Brent Internal Audit Report in July 2019 confirmed that overall we have adequate processes and good controls operating in the school. More details about how we use our Pupil Premium and Sports Grant are on the school website under About Us. If you are entitled to receive Free School Meals, but wish to provide lunchtime food for your child personally, it still helps school finances if you register with Brent Council.