Challenge Partners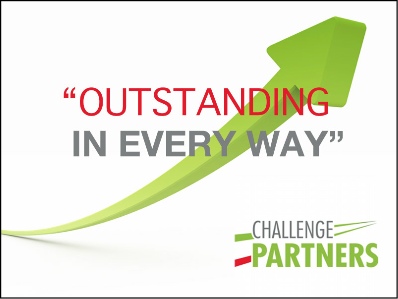 As a school, we believe that self-reflecting is an effective way to ensure that we continue to improve and secure the best outcomes for our children. This is why we joined Challenge Partners. This is a teacher-led national network of schools focused on improving school performance through peer-to- peer challenge and knowledge sharing. Each school involved with Challenge Partners receives an annual Quality Assurance Review. This review is a peer review involving senior leaders from other schools in the partnership. The review focuses on School Improvement Strategies, Quality of Teaching, Learning and Assessment and Outcomes for Pupils.
During the review, the senior leaders and the visiting review team visit each class, followed by an in-depth discussion on the practice observed.
Outcomes from the review are agreed between the school and the review team. Review reports are best viewed as a summary of conversations between teaching professionals during three days spent at a school.
A Challenge Partner review is different from other external inspections such as Ofsted and Local Authority reports. Additionally, due to the review's focus on teaching and learning, it does not consider areas such as safeguarding or governance and its outcomes cannot be directly comparable to an Ofsted inspection.
Barham had its review in January 2019, the report can be read by clicking here. We are really proud of our achievements and feel that the report reflects the high standard of education we provide at Barham.
Please download the letter to parents below.